"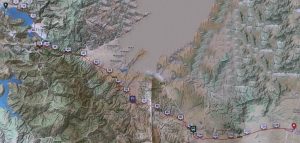 These unusual white formations in the sky disappeared once again and we have deep blue skies the entire day.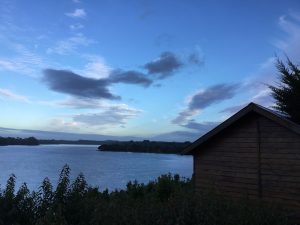 A note about Chile; it is very religious but churches are few and the ones that are there are very small and simple. It is 95% Roman Catholic, the highest percentage single denomination of any country in the world. Ironically the local people adopted the religion that was forced on them by the ones who tortured and persecuted them! What we have seen a lot of, almost every few miles, are little shrines along the roadway like the the one below.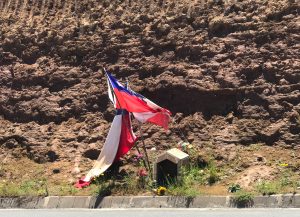 Ride today was 150 km with 5500 ft of climbing.
After our morning routine of breakfast, stretching and team meeting espresso. we rode out.  Retracing the 3 km gravel road made no one happy but once we hit pavement, the first segment was short and fast. We descended along the catchment system of the different lakes.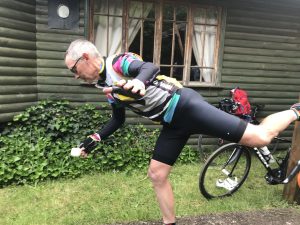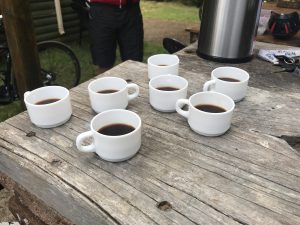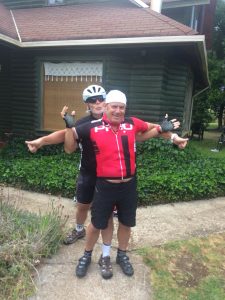 Break Time
Coffee break was the real deal this morning in the village of Contulmo. The village was settled by Germans in the early 1800's. The cafe, La Teteria te Cuento,  was waiting for us with a  local herbal tea called Macqui and brewed coffee prepared on an old wood stovetop. Also waiting for us were 2 different pieces of cheesecake, homemade rolls and homemade blueberry jam. Our  host Miltoon told us all about the place which was owned by his grandmother who served passersby tea and cakes for free. This was at only 28 km out from the start. We barely had started burning off breakfast!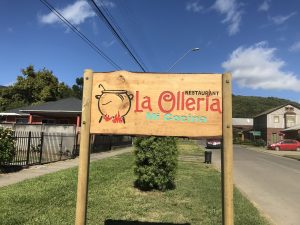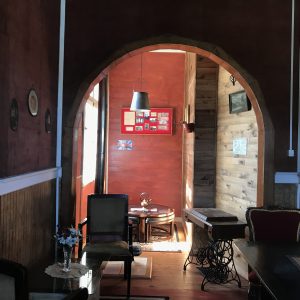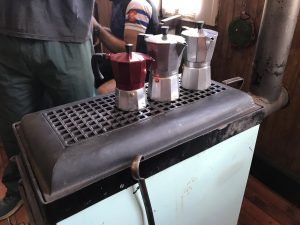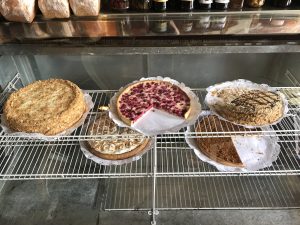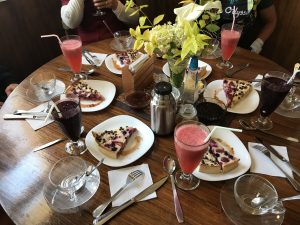 Fresh blueberry and strawberry juices.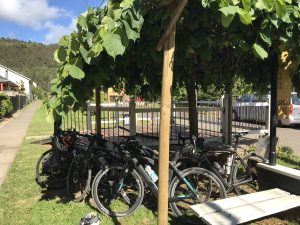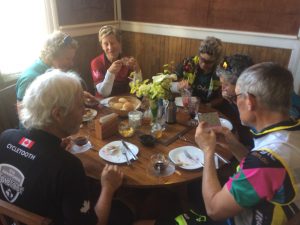 Then the fun started! A big 15%, 10 km climb on full stomachs was not an easy go. And of course the incessant headwind! But this road was smooth and took us through a lush rainforest zone.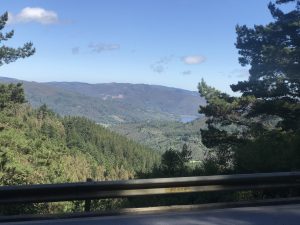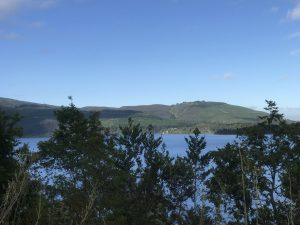 Riding along winding roads got us to the region de Araucanian.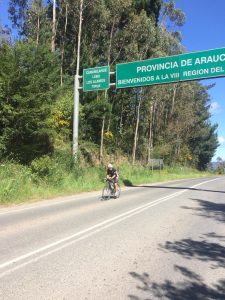 Thousands of  large bush-like trees called Aroma with long cascading branches filled with yellow blossoms were abundant. In Australia they are called Wattles trees. They have a wonderful aroma.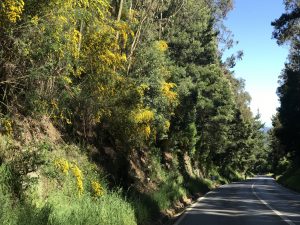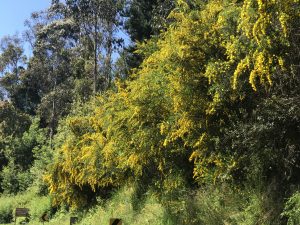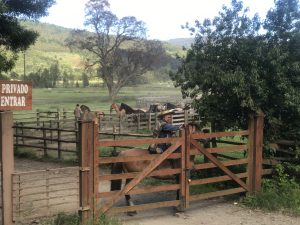 A Gaucho tending his herd of horses.
Lunch
Lunch was ar km 75, where the guides had prepared a picnic of sandwiches made with local breads, meats, fruit and hard boiled eggs. Clementines are now in season and very sweet…perfect for eating while riding.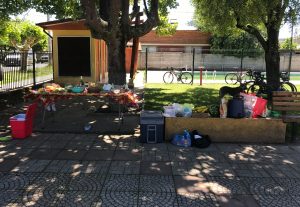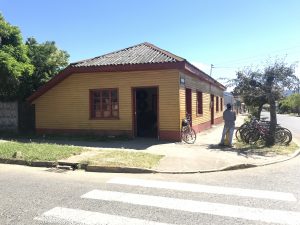 Lunch an local bike shop in Lumaco.
Immediately after lunch, another giant climb with double digit grades, brought us to a high plateau with many steep rollers until arriving at the town of Traiguen.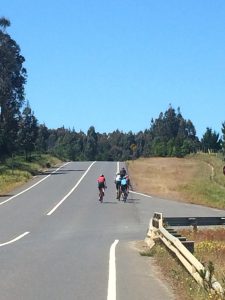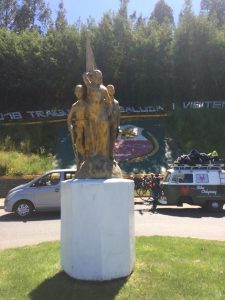 From here we had a long sneaky false flat of 33km riding through large hazelnut orchards.  At Traiguen, I got on 'The B Train' aka 'The French Express', or otherwise known as Bruno, and he pulled all the way home. And the wind shifted to an off the back shoulder crosswind and finally a full tailwind! We sailed into the city Victoria for an uphill finish.
A couple of Chilean artisanal beers in the courtyard finished another hard but great ride. Note the name of the brewery, Lonquimay, this is our next stop tomorrow and the end of Stage One.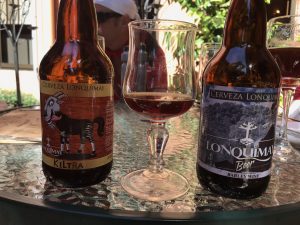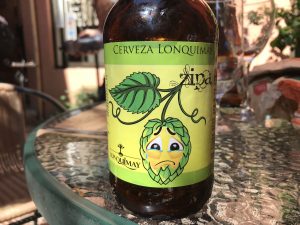 We were on our own for dinner tonight so James, Rai and I caught a Chilean burger in the hotel, so we could call it an early night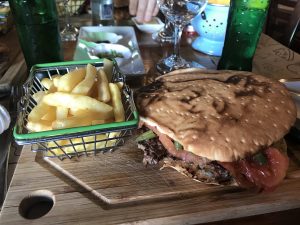 Its hard to think that Christmas is a month away when I have been sweating away in Chile. But as we arrived today, the hotel staff were just finishing decorating the lobby…Feliz Navidad!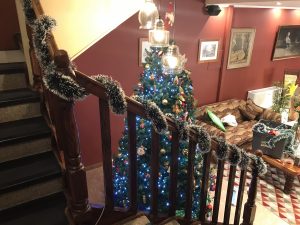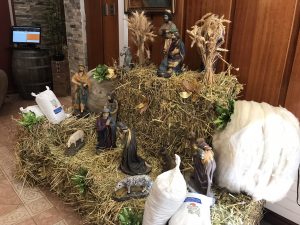 We head for the high mountains tomorrow on another big ride, followed by a rest day and the start of Stage Two.
We have felt very safe here these past two weeks. The Chilean people are happy industrious people and friendly. They lead a simple, family and community centred life and are happy.
Note: there were no incidents of civil unrest today, however I did see two young guys in full camo  carrying machetes, which made me pause!
Please support Biking4Benches on their go fund me page
http://www.gofundme.com/biking4benches
Ola!